Bloom Raskin struggles to answer if higher gas prices are bad for America; Cook fails to explain her experience related to monetary policy
WASHINGTON—United States Senator Bill Hagerty (R-TN), a member of the Senate Banking Committee, today in a hearing questioned President Joe Biden's nominees to the Federal Reserve Board over their qualifications and mission creep at the Fed beyond its narrow authority.
Hagerty reminded Sarah Bloom Raskin, the nominee to be Vice Chairman for Supervision, of the incident that recently occurred at the FDIC where Biden's political appointees led by CFPB Director Rohit Chopra forced out the FDIC Chairman before her five-year term was up, strictly for partisan reasons.
"It was a remarkable undermining of the independence and the integrity of our financial regulators. And I want to ensure that a situation like this does not happen at the Fed. At her nomination hearing in front of this committee, Governor Brainard committed to deferring to the Fed chairman to set the agenda at the Federal Reserve Board. So, Ms. Raskin, if you're confirmed, do you commit to doing the same," Hagerty asked.
Bloom Raskin agreed to do so.
Hagerty indicated in November that he would support Chair Jay Powell for a second term.
Hagerty also asked Bloom Raskin if she believes higher gas prices are good or bad for America, given her numerous public statements that the Fed should make business more difficult for the oil and gas industry in an effort to "mitigate climate risk."
Bloom Raskin responded, saying vaguely "it certainly hurts your pocketbook."
Hagerty expressed his deep concern regarding the Biden Administration's war on American oil and gas, saying "I'm very concerned about weaponizing the Fed and using it to attack industries like the oil and gas industry, particularly right now when we see energy prices through the roof. This sort of move would not only make inflation worse in America when it's already running rampant, but it would also make us more dependent on other nations for them to supply oil and gas to us, because you want to choke off oil and gas here in America and make us less secure as a nation."
In a question to Lisa Cook, a nominee to be a member of the Board who appears to have made a number of omissions and mischaracterizations in the paperwork she submitted to the committee, Hagerty inquired about her economic experience and expressed his belief that the Biden Administration should have nominated someone with far deeper experience in monetary policy.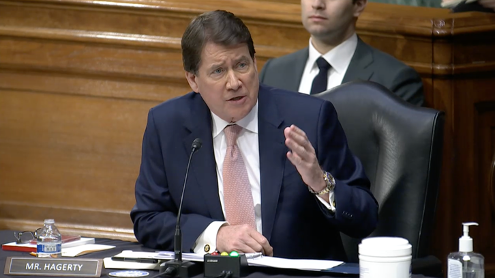 *Click the photo above or here to watch*
###