WASHINGTON—United States Senators Bill Hagerty (R-TN) and Marsha Blackburn (R-TN) today led members of the Senate Republican Conference in a press conference at the U.S. Capitol to discuss ending the violent crime epidemic across America and to implore the Biden Administration to address this critical and worsening threat.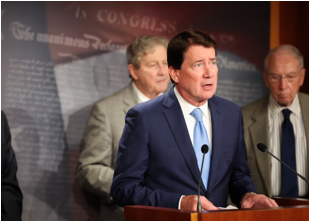 Partial Transcript
Hagerty: "The American public has had enough. The crime wave that's rolling across our country is tragic. As Senator Blackburn mentioned, we're seeing record high levels of crime in every major city. Memphis saw a record high this past year alone. We've got to step up and do something about this, and we've had an Administration that prioritizes anything but dealing with crime. In fact, as many of the members of this Administration were running for office—I think about Vice President Kamala Harris; she actually raised funds to bail out criminals early. One of those criminals that her fund bailed out just a few weeks ago murdered somebody three weeks after being released on bail that now-Vice President Harris's fund provided. We've got to turn away from this weak-on-crime sort of environment. It starts at the top. The tone at the top right now has got to be much more stringent and much stronger. As Senator Blackburn mentioned, we are working on legislation right now that will address this, but we're moving more urgently. The letter that we sent this week to President Biden encourages him—and we're ready to work with him—to step up, to address this problem, to use some of the tried-and-true principles that have already worked. You think back to the Trump Administration, Operation Legend was a process that worked, that helped address this sort of crime, and helped address it in our state alone. So, we need to properly resource law enforcement now. We'll work on it through legislation, but the President has the ability to step up right now and help us address this. We're calling on him to do that, and I look forward to my colleagues and I working together to make certain we get this problem addressed."
A copy of the letter Hagerty and Blackburn sent today to President Biden can be found here.
###