Notes that there is no basis for recent reporting that Iran-backed Palestinian terrorist groups raised $130 million via offshore crypto
WASHINGTON—United States Senator Bill Hagerty (R-TN), a member of the Senate Banking Committee, today in a hearing exposed Democrats' attempts to use the recent Iran-backed Hamas terrorist attacks against Israel as an excuse to force the cryptocurrency industry offshore, rather than address the real root of Hamas's empowerment and funding: the Iranian regime that has been enriched by the Biden Administration's refusal to enforce sanctions.
Hagerty also pushed back against recent reporting that Islamic terrorist groups had raised roughly $130 million through offshore cryptocurrencies, which has been used as justification by Democrats to shut down the cryptocurrency industry.
"What seems to be lost in the discussion is the billions of dollars, I'm talking about billions with a B, that have been funneled to these very organizations we're concerned about; that's their principal sponsor: Iran, with the blessing of the Biden Administration," Hagerty said.
Dr. Shlomit Wagman, former Chair of the Israel Money Laundering and Terror Financing Prohibition Authority, affirmed Hagerty by stating that "crypto right now is not the main source of funding for Hamas."
"What seems to be happening here is that [Democrats are] trying to divert attention from that fact—attacking an industry that we should be moving on shore—we want to actually have control and promote it and be able to deal with it. Instead, pushing it offshore strikes me as a very bad idea," Hagerty continued.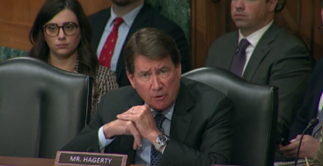 ###